Sarah Palin. On the cover of a magazine. Titled, "IN TOUCH." And Getting paid $100,000 for it. Because she's just like us. And Bristol is in touch as well.
NY POST

:

...in a classic example of closing the stable door after the horse has bolted, Bristol -- who gave birth to son Tripp in 2008 after a brief liaison with Playgirl-posing flop Levi Johnston -- told In Touch

the experience has made her a born-again virgin

and announced, "I'm not going to have sex until I'm married. I can guarantee it."
Some genies (and hymens) can't be put back in the bottle. Completely
In Touch
.
ADDING...
This quote kills me.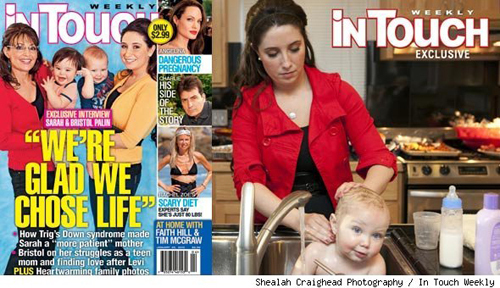 Yes, Palin ladies. The operative word is
CHOSE
. You had a
choice
. And you
choose
to deny others
their choice
.