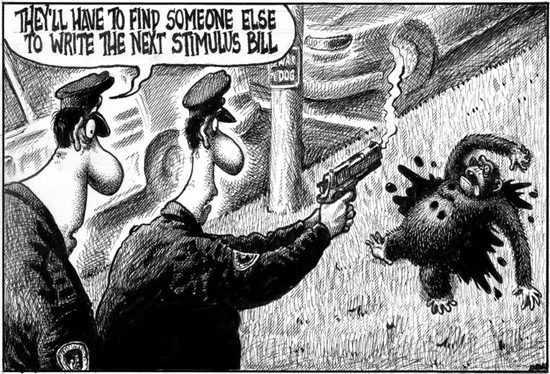 Rupert Murdoch's New York Post strikes again. Sean Delonas and whoever the editor was that thought this editorial cartoon was worthy of printing should be fired immediately.

There is absolutely no way that this racist cartoon can be explained away. If your first instinct was that cartoonist Delonas was comparing President Obama to a chimp, and a dead chimp shot by police no less, then no other explanation is necessary. I'm all for free speech, but this is beyond tasteless.

Sam Stein has more.

UPDATE (2:05pm):

From Fraulein in the comments:

I keep thinking that our illustrious media can't shock me anymore, but somehow they manage to keep doing it.

Jumping on this soapbox will make me sound 100 years old, but I'm going to do it anyway. In my day as a newspaper reporter (early/mid-1990s) we approached our jobs with a certain sense of ethics. We tried to air all sides of a story, to the extent that this is ever possible, and one rule we most certainly never broke, at least at the unremarkable suburban newspaper where I worked, was the one about not gratuitously insulting your readership. I would argue that by running such a viciously racist cartoon, the Post has attacked not only Obama, but most of its readership. It's attacked not only blacks, not only Obama supporters, but every one of its readers who don't consider themselves violent racists. Which one would hope is most of them (even though this is the Post we're talking about...)

Firings are the least of what's required to address this kind of systemic disregard for the principles of journalism. Unfortunately, I think the very issue is that it IS systemic. Across the board, from major newspapers to the execrable news weeklies (I'm looking at you, Newsweek) to the sewer of cable news, the ideals of a true free press died out long ago.

As news consumers, it's our job to call out the media on this kind of bullshit every time it happens. It's the only way they're ever going to learn how intolerable this kind of thing is.