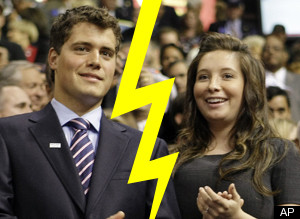 "It's over. I broke up with him," Bristol Palin tells
PEOPLE
exclusively of her second try at an engagement to Levi Johnston, father of her 19-month-old son Tripp.

..."The final straw was him flying to Hollywood for what he told me was to see some hunting show but come to find out it was that music video mocking my family," she says. "He's just obsessed with the limelight and I got played."
Oh, Bristol... a hunting show? ...In HOLLYWOOD?! At least we know you take after your mom in the brains department.
And here I was all set to watch the Wasilla Wedding on television, just like Charles and Diana, except with sled dogs instead of horse drawn carriages. And she couldn't wear white. And Levi in his hunting jacket plaid tuxedo. And you know it would have been televised; I doubt that the Palins would have shut out the press the way those snooty, elitist Clintons did. There's no such thing as bad publicity after all. Speaking of which... whatever happened to that
Palin/Alaska reality series
? Has than been canned yet?
UPDATE

(8/4/10 9:25am)

:
JHW22 makes a great point in the comments:
Bristol has already spoken with People and TMZ and Levi hasn't spoken to anyone. YET she suggests he is the media whore and blames his seeking the limelight as part of the reason for the break-up! She told celebrity mags and he is the media whore? When will that family just stop!?!
Like mother like daughter?